Heljarmadr
Vocals, guitars and keyboards since 2010.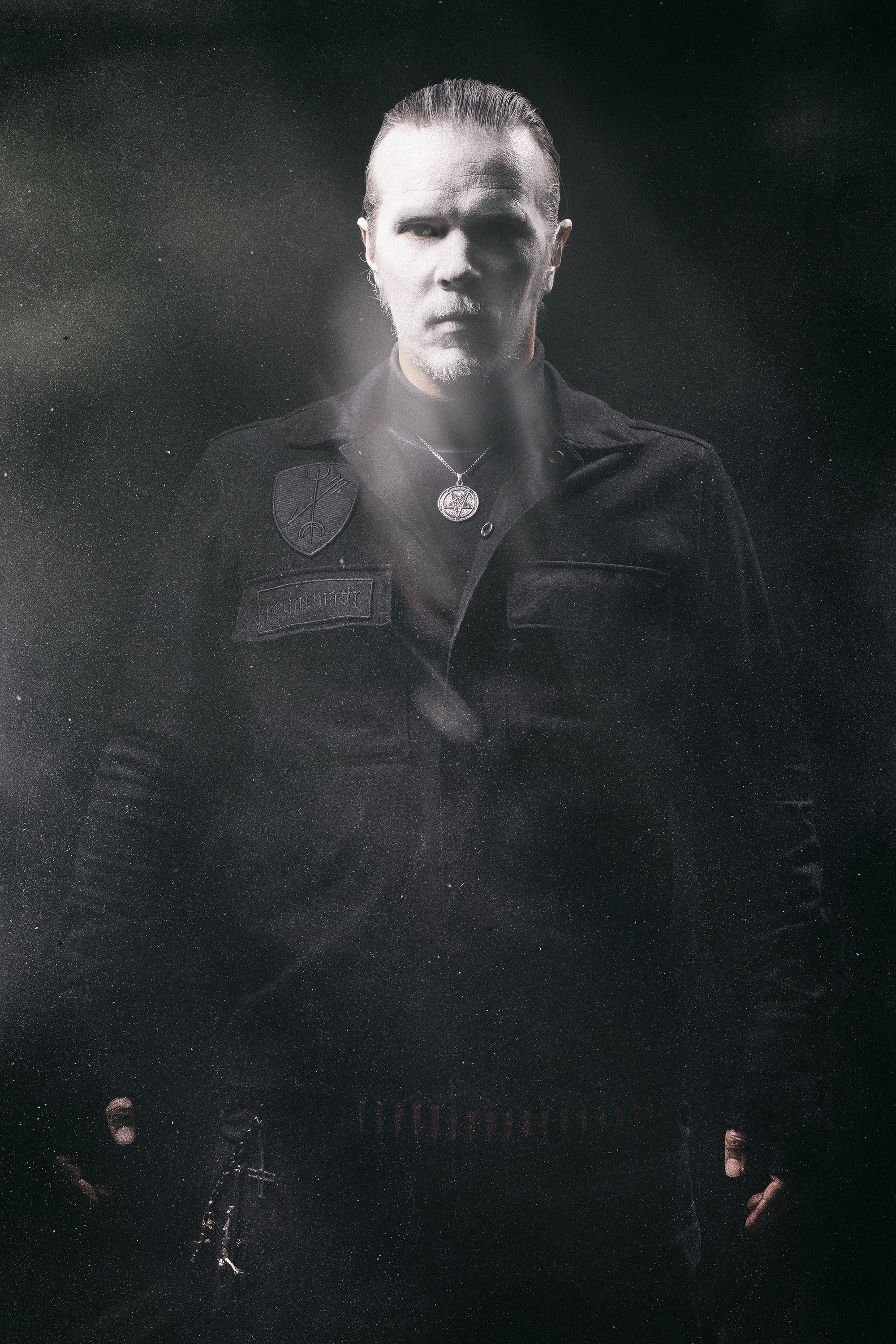 Back in '95 Vediger brought me into a studio to sing on his band's new demo (Symphony of Malice was the name of the band if I recall correctly). I did the best I could, even though I identified and saw myself more of a bass player and a guitarist back then. Most of all I was a kid with visions and dreams. As I'm writing this in 2023, 28 years later, I still love those old days when everything was dead serious and the lack of musical experience was actually seen something good as you were not tainted by preconceived notions (IE "trends").
My career within the landscape of extreme metal has been a slow but steady one and I've cherished every step of the way, especially the off road paths. From recording my first demo to touring the world fronting Dark Funeral. In hindsight nothing could have been any other way and if I had known this almost three decades ago years ago, I would have never believed it. Coming from above the polar circle, reaching a wide audience was quite troublesome before the days of the internet as you might imagine (find Malmberget on Google Maps). But it is with a sense of pride I acknowledge my heritage these days and now, when the world is substantially smaller, I can revisit it with an amount of nostalgia instead of the former youthful spite.
There's actually not too much to be said about the following years, we released a couple of demos with Diabolic Lust early 00's and I always had that small town problem with finding a good stable line up.
In 2007 I joined forces with Dimman, as I had just moved down to Stockholm, and we got Cursed 13 up and running as a band and not just a solo effort. That led to the split album with Domgård in 2009. In 2010 we started Grá as a side project from Cursed 13 as we were having a writers block, mid album. That proved to be a lucrative moment as we recorded the first Grá EP as a purely recreational effort. We sent it out to a couple of labels as a gamble, which turned out to be a good affair. The EP was released on Greek label SonicDeath Armageddon in 500 copies and the legacy of Grá was born. In 2014 I also joined Dark Funeral as the vocalist and I have been active with both bands since.
Discography:
2023 | Grá | Lycaon | CD/LP
2022 | Grá | Flame of Hephaestus | 7"
2022 | Dark Funeral | We Are The Apocalypse | CD/LP
2020 | Heljarmadr | Transcending into a God | Split-CD
2018 | Grá | Väsen | CD/LP
2017 | Grá | Ramsvarta Tankar | CDS
2016 | Cursed 13 | Into Ashes | 7"
2016 | Dark Funeral | Where Shadows Forever Reign | CD/LP
2015 | Grá | Ending | CD/LP
2015 | Grá | Valitus Ja Kaipuu | 7" split
2015 | Dark Funeral | Nail Them To The Cross | 7"
2014 | Grá | Where Shadows Dwell | Digital single
2013 | Cursed 13 | Triumf | CD/LP
2013 | Grá | Necrology Of The Witch | MCD
2012 | Domgård | Myrkviðr | CD
2011 | Grá | Grá | CD
2010 | Grá | Helfärd | EP
2010 | Domgård | I Nifelhels Skygd | CD
2009 | Cursed 13 | Tearing The World Asunder | Split-CD
2007 | Cursed 13 | Promo 2007 | EP
2007 | Cursed 13 | Modernize Messiah | EP
2006 | Cursed 13 | I Love Cyanide | CASS
All previous releases are various demos released on very limited edition cassettes which only those who seek need to find.
Related links:
Facebook:
https://www.facebook.com/heljarmadrproductions
Instagram:
https://www.instagram.com/heljarmadr_official/
Website:
https://www.heljarmadr.com
Youtube:
https://www.youtube.com/channel/UCc-jYLOu6nX7L1nujE9_3Pw
Spotify:
open.spotify.com/user/heljarmadr
Contact:
heljarmadrproductions [at] gmail.com